Wings of Fire
The seven dragon tribes have been at war for generations, locked in an endless battle over an ancient, lost treasure. A secret movement called the Talons of Peace is determined to bring an end to the fighting, with the help of a prophecy¡ªa foretelling that calls for great sacrifice. Five dragonets are collected to fulfill the prophecy, raised in a hidden cave and enlisted, against their will, to end the terrible war.
Clay and his friends have grown up under a mountain, secretly raised by the Talons of Peace to fulfill a mysterious prophecy. The five young dragons are destined to end the war that's been raging between the tribes of Pyrrhia ¡ª but how they'll do this, none of them knows. But not every dragonet wants a destiny. When one of their own is threatened, Clay and his friends decide to escape. Maybe they can break free and end the war at the same time ¡ª or maybe they'll risk everything...
The WINGS OF FIRE saga continues with a thrilling underwater adventure ¡ª and a mystery that will change everything! Tsunami the SeaWing is overjoyed to be reunited with her fellow ocean-dwelling dragons. For the first time in her life, she actually fits in. But not everything is as perfect as it seems underwater. Tsunami and the other ""dragonets of destiny"" aren't any closer to ending the war for Pyrrhia . . . and someone in the SeaWing kingdom wants them dead before they can even try. Tsunami wants to stay with her fellow SeaWings, but can she keep her friends safe at the same time?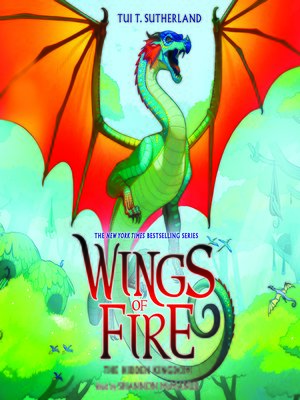 Deep in the rainforest, danger awaits... The dragonets of destiny aren't sure what to expect in the RainWing kingdom ¡ª Glory hopes to learn more about her family, and since the RainWings aren't fighting in the war, all five dragonets think they might be able to hide safely for a while. But something deadly is stalking the peaceful kingdom, and the dragonets soon discover that RainWings have been mysteriously disappearing from the forest. When the RainWing queen won't do anything to find her missing tribe members, Glory and her friends set off on their own rescue mission ¡ª which leads them right back into enemy territory...
The dragonets of destiny are on their way to see the NightWings¡ªand Starflight doesn't need his psychic powers to know it isn't going to go well. Starflight knows it's his duty as a NightWing to convince the other dragonets to choose Blister as queen. But he can't help feeling that there's something Morrowseer and the other NightWings aren't telling him, something that could put his friends in grave danger. While other NightWings have their powers to help them, Starflight has to rely on his brain¡ªand with SkyWings chasing them and Queen Burn on their tails, that might not be enough.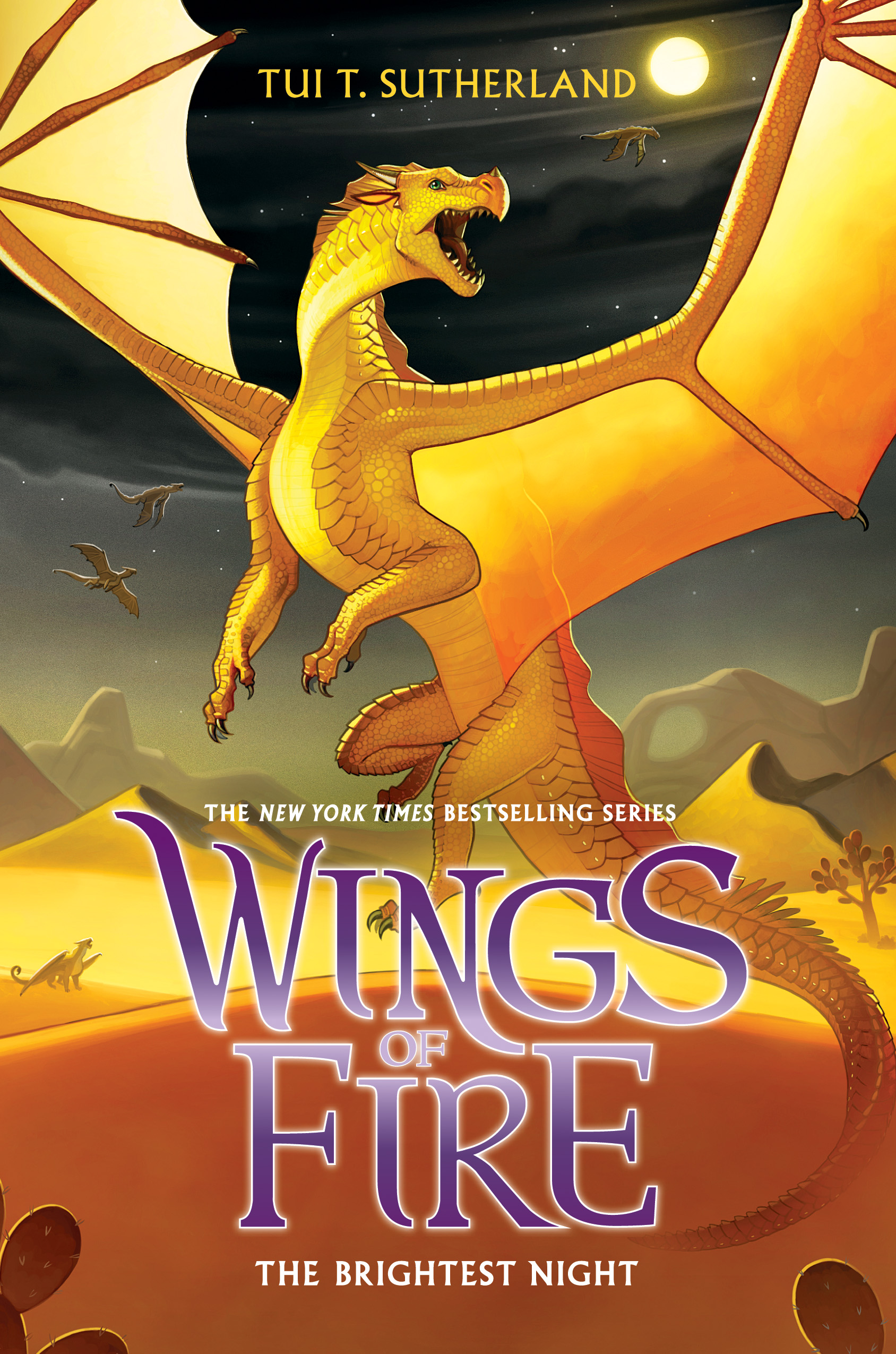 Sunny has always taken the Dragonet Prophecy very seriously. If Pyrrhia's dragons need her, Clay, Tsunami, Glory, and Starflight to end the war, she's ready to try. She even has some good ideas how to do it, if anyone would listen to her. But shattering news from Morrowseer has shaken Sunny's faith in their destiny. Is it possible for anyone to end this terrible war and choose a new SandWing queen? What if everything they've been through was for nothing? Buried secrets, deadly surprises, and an unexpected side to scavengers are all waiting for her in the shifting sands of the desert, where Sunny must decide once and for all: Is her destiny already written? Or can five dragonets change their fate and save the world... the way they choose?
Peace has come to Pyrrhia . . . for now. The war between the tribes is finally over, and now the dragonets of the prophecy have a plan for lasting peace: Jade Mountain Academy, a school that will gather dragonets from all the tribes and teach them to live together, perhaps even as friends. Moonwatcher isn¡¯t sure how she feels about school, however. Hidden in the rainforest for most of her life, the young NightWing has an awful secret. She can read minds, and even see the future. Living in a cave with dozens of other dragons is noisy, exhausting--and dangerous. In just a few days, Moon finds herself overwhelmed by her secret powers and bombarded by strange thoughts, including those of a mysterious dragon who might be a terrible enemy. And when someone starts attacking dragons within the academy, Moon has a choice to make: Stay hidden and safe? Or risk everything to save her new friends?
DARING MISSION... OR DEADLY MISTAKE? Winter has been a disappointment to his royal IceWing family his whole life. When his sister, Icicle, runs away from Jade Mountain Academy, fleeing terrible crimes and possibly planning to commit more, Winter knows that they both need a second chance to make things right¡ªif only he can find her. Winter¡¯s new clawmates, Moon, Qibli, and Kinkajou, won¡¯t let him make this dangerous journey alone. They don¡¯t seem to understand that IceWings, the most superior of all dragon tribes, can fix their own problems. When their search leads the dragonets straight into Queen Scarlet¡¯s vicious talons, Winter is grateful to have some help. But even the bravest dragons can¡¯t follow him to the Ice Kingdom, where he¡¯ll have to face the greatest threat of all: his own family.
THE MOST DANGEROUS DRAGON IN PYRRHIA IS ON A MISSION¡­ Peril has been loyal to Queen Scarlet, who used her fatal firescales to kill countless dragons in the SkyWing arena. Now, Peril is loyal to Clay, the only dragonet who has ever been her friend. So when Scarlet threatens Jade Mountain Academy, Peril sets off to find her former queen, stop her, and save the day, no matter what it takes. There's just one problem: a strangely persistent SeaWing, Turtle, insists on coming along, too. Turtle is worried about his friends, who left to search for Scarlet and haven't returned. Peril is worried that she might accidentally burn Turtle¡ªor burn him on purpose, for being so annoying¡ªand frustrated that she keeps saying and doing the wrong things. She can't escape her firescales, and she can't escape her reputation as the deadliest dragon in Pyrrhia. So when she's offered a chance to trade everything for a new life, Peril has to decide who she's really loyal to¡­and whether her own scales might actually be worth saving.
FOR EVERY VILLAIN, THERE IS A HERO¡­ Turtle isn¡¯t one of the heroes he reads about in stories. If he were, he¡¯d use his animus powers to help Pyrrhia¡ªinstead of keeping his abilities a secret, even from his own sister. Now that Darkstalker, the sinister and impossibly old dragon from Pyrrhia¡¯s most notorious legends, has returned, Turtle knows his own role is simple: hide. And stay hidden. The other dragons at Jade Mountain Academy, on the other hand, think Darkstalker is fascinating. He charms everyone he meets, including Turtle¡¯s most skeptical friends. They all seem convinced that the ancient dragon has changed. Turtle isn¡¯t so sure. The more he watches Darkstalker from the shadows, the more Turtle knows that someone needs to stop the powerful dragon. A real hero. But Turtle is running out of time to find one, which means¡­he might have to try to save the say himself.
TIME IS RUNNING OUT. Qibli knows Darkstalker must be stopped. And he knows he could stop him¡ªif he had magic. With even a sliver of the ancient dragon¡¯s all-powerful scroll, Qibli could rewrite history the right way: end war forever; make every dragon happy; perhaps even cast a very small spell so that everyone would like him . . . Instead, as Darkstalker¡¯s dangerous influence spreads across Pyrrhia, entrancing or killing every dragon in the seven tribes, Qibli can only grasp the small animus objects he¡¯s borrowed from Turtle. With some clever thinking, Qibli¡¯s talons finally hold the power to make a difference. But prophecies are not easy to rewrite. Can Qibli be the magical force Pyrrhia needs, or will he be the one to bring Jade Mountain¡ªand his family, his friends, his whole world¡ªcrashing down?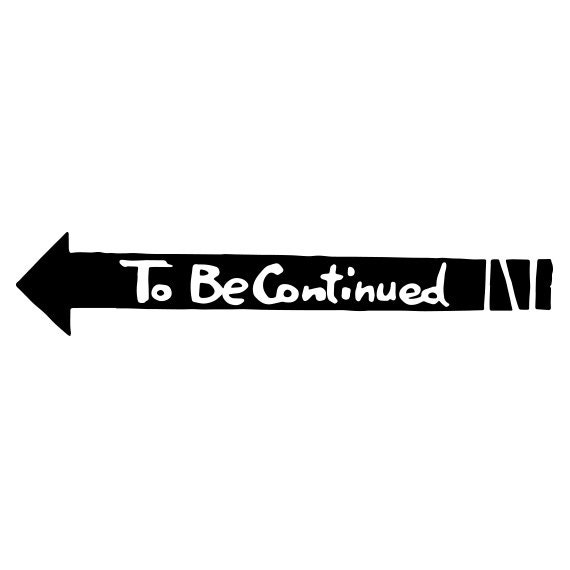 Credits to Scholastic's Wings of Fire website.